Main content starts here, tab to start navigating
Menus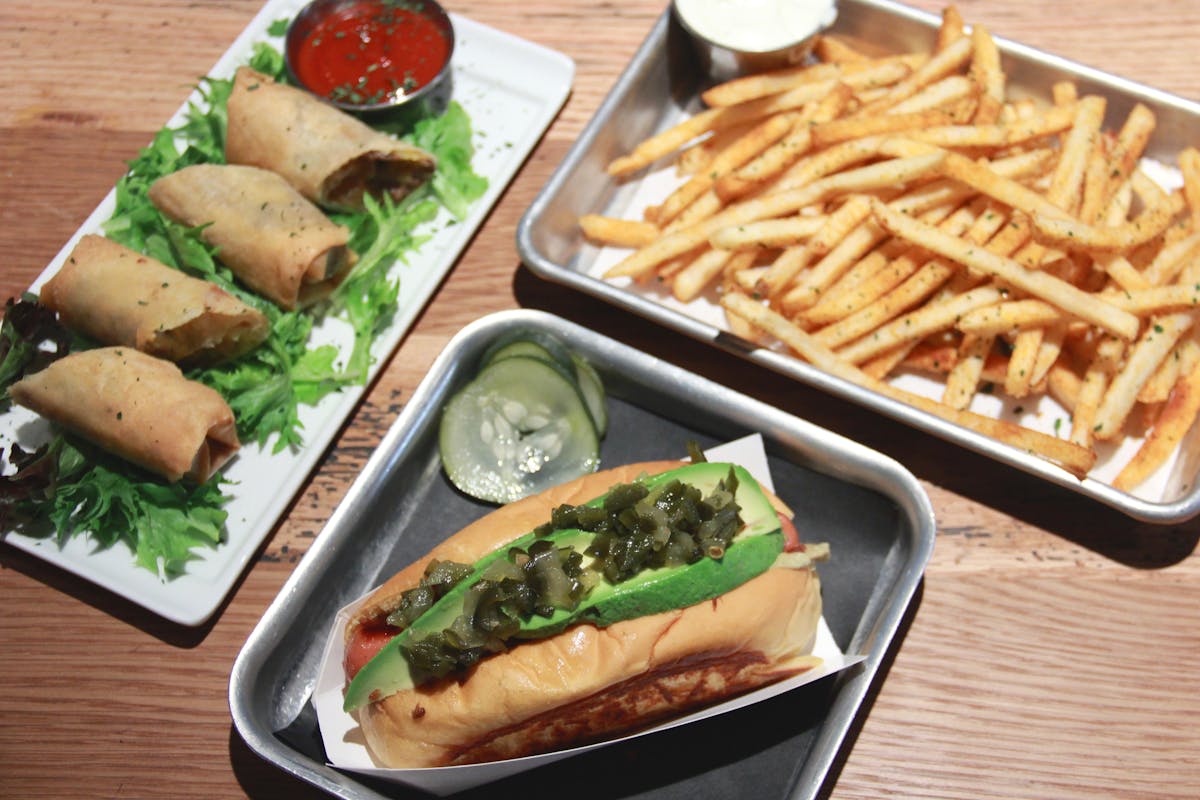 Slide 1 of 3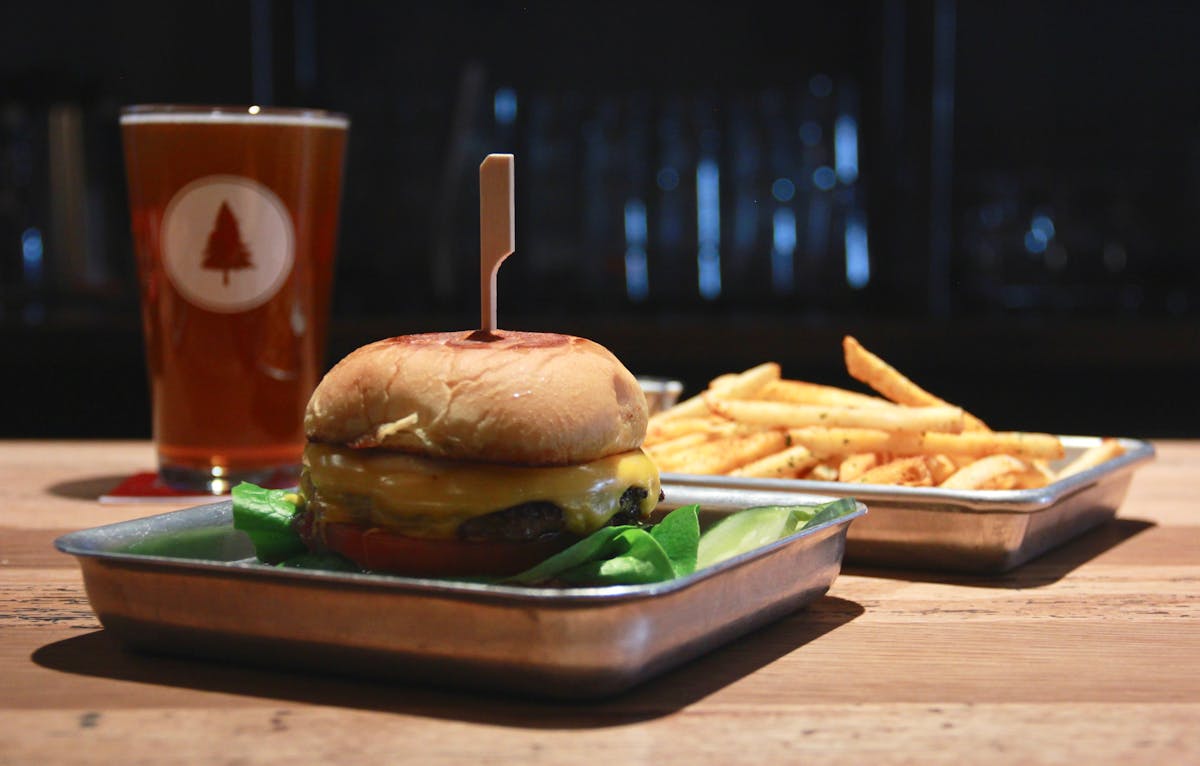 Slide 2 of 3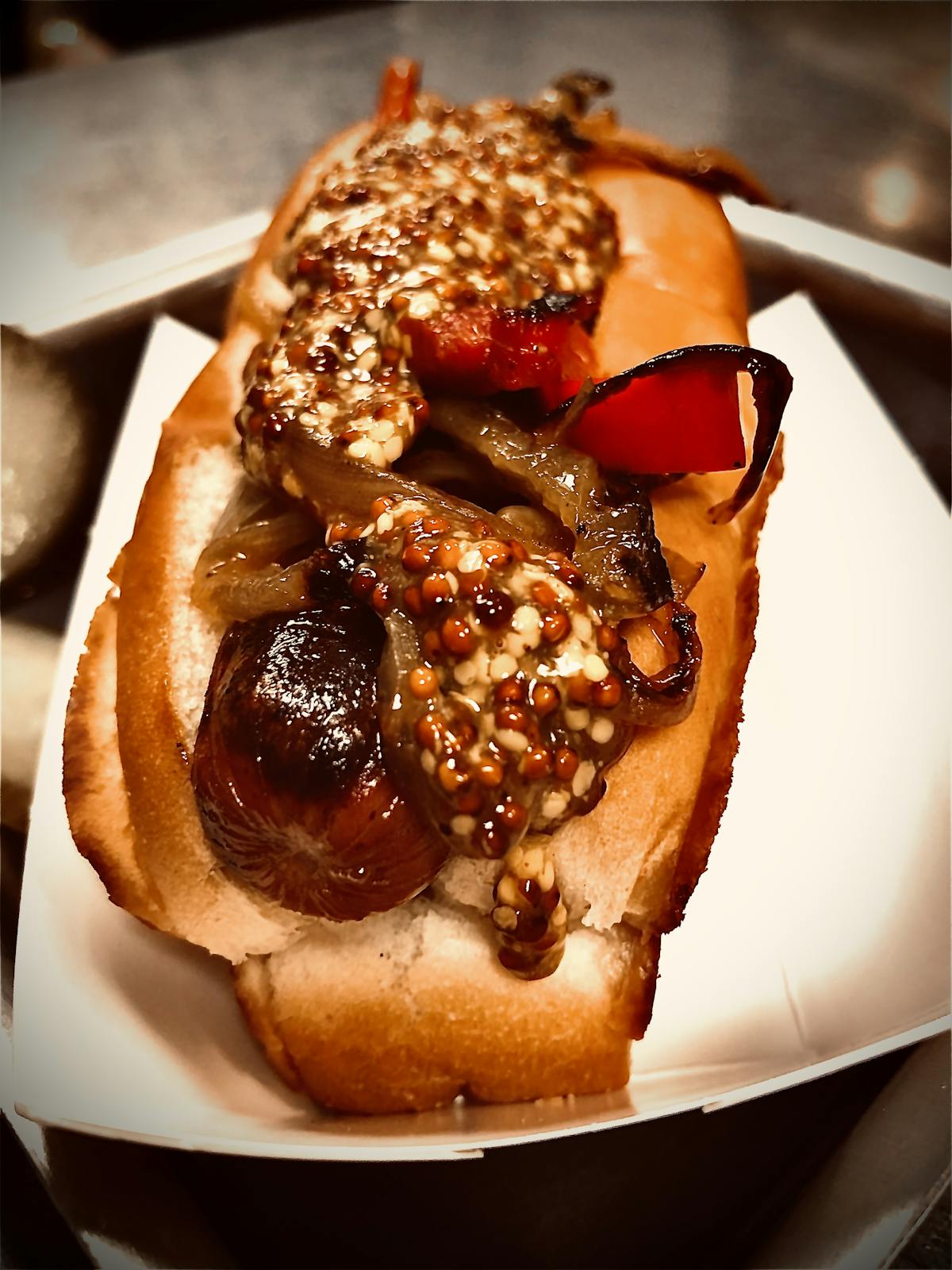 Slide 3 of 3
Patriot GameDay Specials

Come cheer on the Patriots with the Kenmore! Half off appetizers and drink specials when the Pats play.
Kenmore Chili

The return of our house made chili! Chili Dog $5 Bowl of Chili $7

Chicken Quesadilla

Chicken thigh, house pico, and jack cheese grilled in a flour tortilla.

$10
IPAs
Lawson's Sip of Sunshine

Packed with juicy tropical fruit character, bright floral aromas and delectable layers of hop flavor. IPA 8% 12oz

$10

Bentwater Sluice Juice

With aromatics of orange, tangerine, and lime peel, this IPA is juicy, hazy, smooth and a Boston favorite. Hazy IPA. 6.2%. 16oz

$8

Zero Gravity Madonna

Mountains of hops. Tropical and grapefruit aroma and flavor from Citra meld beautifully with lemon-lime and nectar fruit from New Zealand Motueka. Wheat and Pilsner malt keep the body light and refreshing so the hops can express themselves. 8% 16oz CAN

$12

Mighty Squirrel Cloud Candy

A hazy, deep golden-orange color with aromas of papaya, mango, and starfruit and a smooth and crisp finish. 6.5% 16oz

$8.50

Zero Gravity Conehead

single hop wheat IPA, brewed with all Citra hops. Lighter in color and lower in a.b.v. than a typical American IPA, this beer has just the right amount of hop flavor and aroma. Completely satisfyingly awesome in its crispiness and well-rounded hopaliciousness. 5.7% 16oz CAN

$9

Bent Water Double Thunderfunk

The big brother of the best-selling Thunder Funk IPA. This big-bodied West Coast style Double IPA drinks deceptively smooth and delivers big hop flavors. Double the Thunder. 9.1% 16oz CAN

$12

Sloop Brewing Juice Bomb

The low bitterness and late hopping showcase the citrusy, juicy notes of American hops. A blast of tropical aroma is followed by a resiny and balanced flavor. Juice bomb features all the aspects and nuances of full hop flavor — not just bitterness. An IPA for real hop lovers. 6.5% 16oz CAN

$9

Maine Lunch

Lunch is a special whale that has been spotted off the Maine coast since 1982. She has what looks like a bite taken out of her fin, which adds to her unique character. With aromas of caramel, orange, papaya, grapefruit, and underlying floral notes, with hints of onion and garlic. 7% 12oz

$11

Harpoon Rec League

Rec. League is a crushable craft beer that won't slow you down, the perfect way to celebrate life's little victories. Brewed with tropical modern hops and a groundbreaking blend of ingredients (buckwheat kasha, chia seeds, and sea salt). Light and refreshing but full of flavor, it packs everything we love about hop-forward beers into an easy-drinking, sessionable package. 4%

$7

Lone Pine Brightside IPA

An American IPA balances a subtle malt character with smooth, clean bitterness and layers of complex citrus zest, tropical fruit, and pine. 7.1% 16oz CAN

$11

Bent Water Thunder Funk

Bent Water Brewing's nod to the classic West Coast Style IPA, with citrus and pine flavors and a hoppy bite. One of the pillars of the world-class Bent Water IPA portfolio. CAN

$10

Mighty Squirrel Double Cloud Candy

Cloudier. Candier. Double Cloud Candy is juiced up with big notes of mango, citrus, peach, melon, and papaya. It's pillowy soft and finishes luscious and smooth. Double up! CAN

$12.50

Medusa Brewing Laser Cat

Big, balanced, and loaded with citrus forward hops, Laser Cat is Medusa's definition of Imperial IPA, combining both new and traditional methods in our approach to making this beer. CAN

$11
Fall Brews
Mighty Squirrel Gourdgeous Pumpkin

HELLO GOURDGEOUS! It's the beer everyone wants to BE and the beer everyone wants to be WITH! Beyond being a knockout, this pumpkin ale drops the jaw with subtle notes of nutmeg, cinnamon, candied yams, and a rich, warm pie crust finish. Gourdgeous Pumpkin is so beautiful it could launch a thousand ships. 6.1% 16ozCAN

$11.50
Sours
Sloop Brewing Jam Aprocot and Passionfruit sour

Sloop Jam Apricot & Passion Fruit // We squeezed mounds of tangy, tropical passionfruit & sweet, ripe apricot into the fermenter for our latest fruity, jammy, sweet & tart flavor exploration. Perfectly balanced w/ the perfect kiss of milk sugar, Sloop Jam: apricot & passion fruit would be at home on any farmers' market table . . . or bartop near you! Sloop Jam: Sloop's line of fruited sours, brewed w/ milk sugar and fermented with fruit for the jammiest, fruitiest flavors in beer.

$9

Mighty Squirrel Sour Face (Raspberry & Kiwi)

Berliner Weisse fermented with various fruits to create a delicately layered sweet, tart, and refreshing beer. We hope you enjoy! CAN

$11

Sun Lab Blue Seas

American Sour Ale Brewed with blueberry, lemon, cinnamon and Madagascar Vanilla. Sweet Blueberry compliments the tangy sour ale while the lemon brings forward the best parts of our souring process. Finished with a moderate addition of creamy vanilla and cinnamon. Enjoy this with your favorite locally made dessert. CAN

$11.50

Sun Lab Feelin The Flow

American sour ale brewed with pomegranate, tangerine and plum. Sweet juiciness with a touch of rich tartness. It's sure to quench your thirst! CAN

$11.50

Mighty Squirrel Sour Face (Blackberry)

These blackberries weren't destined for cobbler! Hold onto your tastebuds...only the king of berries- the royal blackberry, would do for this Sour Face offering. Delicately layered and tart with a hint of sweetness, and as always, super refreshing! CAN

$11

Battery Steele Brewing Endless Ride Kettle Sour Ale Blueberry & Lemon Zest

Perfectly tart and subtly sweet blend of lemon and fresh, ripe blueberry. Flavorful enough to wanna crush it, and sitting at a gentle 3.9% ABV, it's light-weight enough to do so with a guilt-free conscience. 16oz CAN

$11.50

Mighty Squirrel Sour Face (Strawberry)

Berliner Weisse fermented with strawberry and kiwi to create a delicately layered sweet, tart, and refreshing beer. CAN

$11
Porters & Stouts
Exhibit A Briefcase Porter

This porter satisfies without being heavy. Toasted dark bread and nutty aromas start you off followed by light roasted coffee, dark chocolate and a touch of blackberry. The finish is dry keeping you ready for another sip. 16 oz. 5.4%

$8.25

Guinness

Rich and creamy. Distinctively black. Velvety in its finish. This iconic beer is defined by harmony. Sip after sip, sweet counters bitter as the malt arrives on cue to compliment a base of roasted barley. Just as the unmistakable white head sits flush atop the dark beer, so do the flavors counter and combine perfectly. ABV 4.2%

$8.50
Ciders, Seltzer, Etc
Citizen Cider The Dirty Mayor

More sweet than dry with a ginger nip 16 oz CAN 5.2%

$10

Citizen Cider Brose

More dry than sweet -- taste of blueberries and apples 6.1% 16oz CAN

$12

Citizen Unified Press

Dry hard apple cider 5.2% 16oz CAN

$10

Stormalong Mass Appeal

This cider is easy-drinking with a nice balance of semi-sweet and tart apple. Big apple flavor and juiciness from the classic New England Macintosh variety, while Golden Delicious adds a tropical layer to the finish. 5.5% 16oz draft

$9

White Claw Black Cherry

CAN

$7.50

White Claw Mango

CAN

$7.50

Downeast Original Blend

Juicy and sweet, tastes and smells just like farm fresh cider you drank as a kid. Intensely flavorful.

$9

21 Amendment Hell or High Watermelon Wheat

Like Lady Liberty, we stand for independence and perseverance. In the pursuit of innovative beer, there is no obstacle too great. No journey too long. No fruit too gigantic. This American wheat beer is brewed with real watermelon, for a flavor that's surprisingly crisp, dry and refreshing. CAN

$6.50
Pale Ales & Lagers & Wheat & Pilsners
Aeronaut Robot Crush

KAPOW! This adventure fuel for humans features flavors of biscuit and honey balanced with hints of citrus. A bounty of sweet pilsner malt collides with the perfect dose of Citra hops to create a crisp, quaffable and award-winning lager, ROBOT CRUSH!

$7.50

3 Floyds Zombie Dust

Intensely hopped and gushing undead Pale Ale 6.5% 16oz

$9

Allagash

Allagash White features a refreshing balance of citrus and spice. Wheat, coriander, and Curaçao orange peel round out the flavor of this pale straw-colored, hazy beer. Super sippable for pre game 5.2% 16oz

$7

Exhibit A Everyday Lager

Classic American Lager features a traditional Pilsner malt character with a touch of Noble Hops. 4.9% 16oz

$8

Stella

This premium imported beer is brewed in Belgium and made with light barley malt, and Tomahawk and Saaz hops. The brewing process lends to a wonderful floral aroma, well-balanced malt sweetness, crisp hop bitterness and a soft dry finish 5% 16oz

$7

Zero Gravity Green State Lager

A crisp, easy-drinking Pilsner beer that is influenced by the great brewing regions of the world, but that charts its own course through this elegant style. 4.9% 16oz can

$9

Coors Light

Draft

$5

Notch Session PLS

Notch Session Pils salutes the session pale lagers of the Czech Republic: crisp, herbal, and hoppy. The Czech culture is a beer culture, and their beer of choice is this low gravity pale lager known as Světlé Výčepní.

$7

Narragansett Lager

Narragansett Lager is old reliable. It was the first beer brewed by "The Original Six" back in 1890, and the best selling beer in New England from the 1930's to the 1970's. It has crossed paths with Dr. Seuss, it was famously crushed by Captain Quint in Jaws, and it was the first alcoholic beverage to partner with a professional sports team – the Boston Red Sox from 1944-1975. Drinking a Lager is drinking to New England history. Hi Neighbor! Have a 'Gansett!

$4.75
Bottles
Budweiser

Lager 5%

$5.25

Michelob Ultra

Light Lager 4.2%

$6

Miller High Life

American Lager 4.6%

$4.75

Corona Extra

Imported Lager 4.6%

$6.50

Twisted Tea

$6.50

Sam Adams

Boston Lager 5%

$7

Bud Light

Lager 5%

$5.25

NON ALCOHOLIC Lagunitas IPA

This near-beer features Mosaic, Citra, and Centennial hops. The body is lighter, but there's still enough bitterness and backbone to let you know you're drinking a craft beer.

$7.50
White
Kim Crawford Sauvignon Blanc

A fresh, juicy wine with vibrant acidity and plenty of weight and length on the palate. Ripe, tropical fruit flavor with passion fruit, melon, and grapefruit

$9

$34

Woodbridge Pinot Grigio

A light, crisp wine displaying juicy flavors of lime and citrus leading into a mouthwatering finish

$9

$34

Dreaming Tree Chardonnay

Dreaming tree captures the essence of Central Coast wines. It is a big wine that is wonderfully drinkable solo or with food. It is fruity--and exceptionally well-balanced. Nice after taste--sort of a lingering spicy/citrus feel.

$10

$36

Lab Rose

Lab is a very versatile, fresh and light wine, made with traditional grape varieties of this region. Fruity with great acidity.

$8

$30
Red
Meiomi Pinot Noir

Discover the well balanced, richly flavored, and deliciously complex taste of Meiomi Pinot Noir. Lifted aromas of jammy fruit and toasty oak are followed by expressive dark berry, juicy strawberry, and toasty mocha flavors.

$10

$36

Dreaming Tree Crush

Crush is a special blend hand-selected from our favorite varieties. This wine pulls you in with notes of smoky berry and a pop of raspberry jam. Around the table or out on the patio, it's a wine you're going to want to share with your favorite people

$10

$36

Leese-Fitch Cabernet

A rich and bold expression with aromas of blackberry, toasted spice and tobacco leaf. The inviting aromas ring true on the juicy palate with loads of blackberry and boysenberry fruit flavors and layers of jam, allspice and sweet oak adding depth and richness.

$10

$36

Leese-Fitch Merlot

A bright and inviting with aromas of ripe red fruits; raspberry, cherry and pomegranate. Additional aromas of red currants, clove spice and sweet vanilla lead to a medium-bodied, juicy palate. Layers of juicy fruit flavors, black olive and notes of dried lavender add complexity.

$10

$36
Little Leaguer

A Creamsicle for grown-ups who are kids at heart. Stoli Vanilla, Triple Sec, Boylans Orange Soda

$10

The Undergrad

Root Beer Float vibes without all the calories of the ice cream. Stoli Vanilla, Spiced Rum, Boylans Root Beer.

$10

Suicide Squeeze

Life is better with a margarita in your hand. Tortilla White Tequila, Triple Sec, Lime Juice, Simple Syrup. Make it spicy with Tanteo Jalapeno Tequila or Ghost Tequila for $1 more

$11

The Pink Hat

Whether its your first game or your 50th, this is a great start to a gameday. Deep Eddy Ruby Red Vodka, lime juice, ginger beer.

$12

Apple Cider Mule

Nothing screams fall like Apple Cider. Well House Vodka, fresh lime juice, apple cider and ginger beer.

$10

Deacon Giles Mai Tai

Trader Giles Mai Tai is a ready-to-drink Mai Tai, packaged in a very portable can. Every Deacon Giles Speakeasy Cocktail was crafted to taste truly authentic... as if you just ordered it at the bar. Rum with fruit juices, other natural flavors and carbonated water. 7% 12oz CAN

$10.50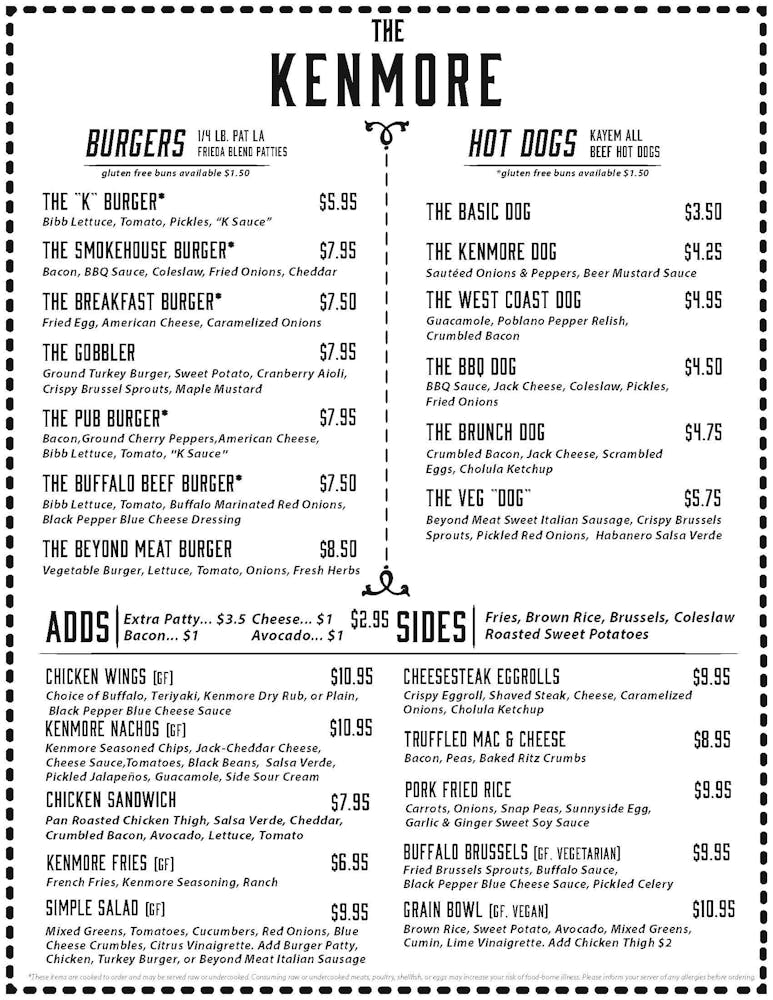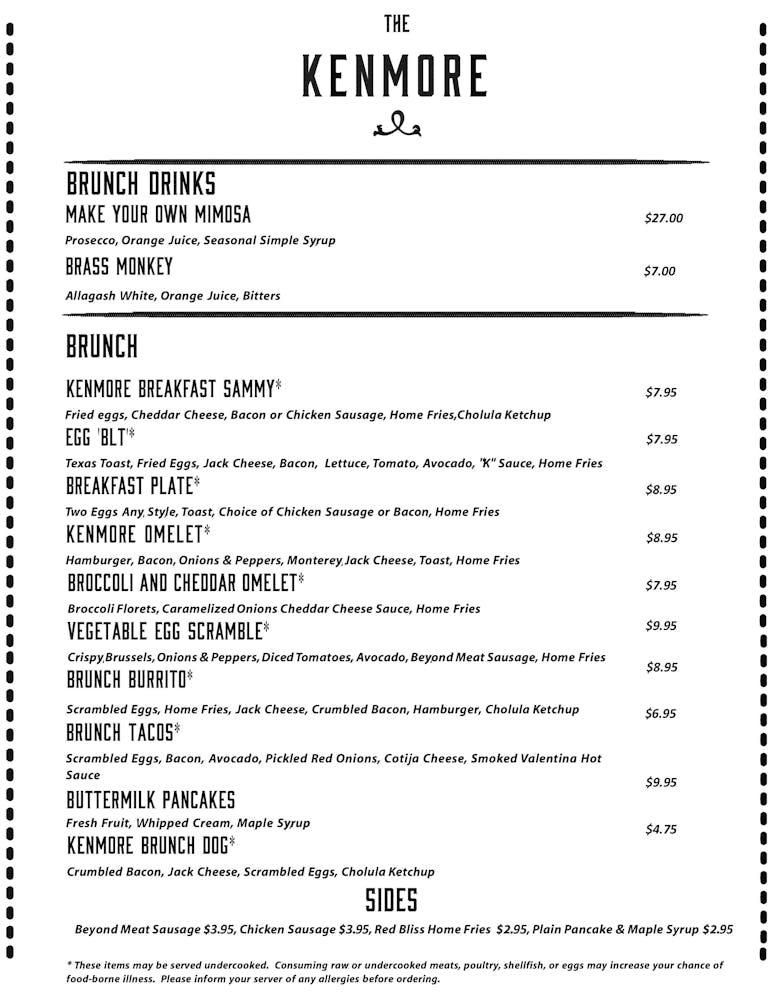 The Kenmore now offers a brunch menu on weekdays!
11am-3pm , Monday through Friday, we serve a limited brunch as well as our full lunch/dinner menu.
KENMORE BREAKFAST
SAMMY*
Fried Eggs, Cheddar Cheese,
Chicken Sausage, Home Fries, Cholula Ketchup
$7.95
BREAKFAST PLATE*
Two Eggs Any Style, Toast, Bacon or Chicken Sausage, Home Fries
$8.95
KENMORE OMELET*
Hamburger, Bacon, Onions &
Peppers, Monterey Jack Cheese, Toast, Home Fries
$8.95
VEGETABLE OMELET*
Crispy Brussels, Onions & Peppers, Diced Tomatoes, Avocado, Beyond Meat, Sausage, Home Fries
$9.95
BUTTERMILK PANCAKES
Fresh Fruit, Whipped Cream, Maple Syrup $9.95
THE BREAKFAST BURGER
Fried Egg, American Cheese, Caramelized Onions
$7.50
THE BRUNCH DOG
Crumbled Bacon, Jack Cheese, Scrambled Eggs, Cholula Ketchup
$4.75
*These items may be served undercooked. Consuming raw or undercooked meats, poultry shellfish, or eggs may increase your chance of food-borne illness. Please inform your server of any allergies before ordering